2nd pregnant pachyderm gives birth at Tampa's Lowry Park Zoo
She's not royalty, but the newest baby at Tampa's Lowry Park Zoo is sure to capture a "ton" of attention. Just seven months after the Zoo welcomed an African elephant calf, another was born July 29 at 11:20 p.m. to first-time mother "Matjeka." The newborn is the second elephant calf born in Tampa from a herd of 11 elephants rescued from culling in Swaziland, Africa, and brought to the U.S. a decade ago.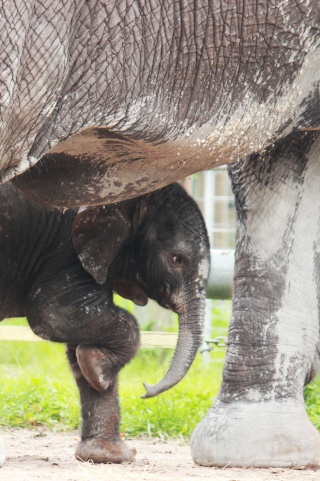 © Tampa's Lowry Park Zoo
As with the female calf born last December, this newborn, sired by "Sdudla," a Swaziland bull, is significant to the population because the calf introduces new DNA into the gene pool of elephants managed in North America, which averages just three or four births each year. She is the first African elephant calf born in 2013 in the population managed by AZA-accredited zoos and wildlife centers in North America, the second born in Tampa from the Swaziland herd, and the third born in the Zoo's 25-year history.
"Thanks to ongoing support from the Tampa Bay community, we have the animal care professionals, space, and facilities to do our part for elephant species survival," said Craig Pugh, executive director and CEO of Tampa's Lowry Park Zoo.  "Guests at the Zoo can be up close to elephant families seen less often in Africa. Successful elephant families are the building blocks for species survival."
Tampa's Zoo is among a group of 41 wildlife institutions accredited by Association of Zoos and Aquariums (AZA) that manage African elephants. The African Elephant Species Survival Plan (SSP) program is designed to maintain a healthy, self-sustaining population that is genetically diverse and demographically stable.
"Tampa's Lowry Park Zoo is an important part of the AZA African Elephant SSP, a breeding and conservation program focused on sustaining elephants in North America and in range countries" said AZA President and CEO Jim Maddy.  "Elephants in North American zoos help generate millions for field conservation programs at a time when elephants in Africa are under intense pressure from illegal ivory poaching, habitat loss and human encroachment. Elephants in human care also contribute to research in health, welfare, reproduction, and behavior which directly benefit their wild counterparts. Elephants are relying on us to ensure their future."
In 2003, Tampa's Lowry Park Zoo, together with San Diego Zoo Global, airlifted 11 elephants from Swaziland, Africa, where they were scheduled to be culled (killed) due to park overpopulation. Four of those elephants arrived at Tampa's Lowry Park Zoo and seven went to San Diego. Although three of the original four currently reside in Tampa, the fourth, a bull named Msholo, relocated to San Diego Zoo Global on breeding loan in 2009.
"This month marks 10 years since the importation of 11 elephants from the Kingdom of Swaziland," noted Dr. Larry Killmar, VP of animal science and conservation at the Zoo." The newest birth is a significant accomplishment one of our core objectives of that importation, which was to have all of the females successfully reproduce and contribute to the sustainability of the North American managed population."
When Matjeka's labor appeared imminent, the Zoo's elephant care team stayed with the mother-to-be around the clock. The calf was born at 11:20 p.m. July 29. Another adult female, Mbali and her 7-month-old daughter, Mpumi, were at Matjeka's side during her brief labor. The newest mom and baby will remain off exhibit for bonding and reintroductions to the rest of the females in the herd before returning to the outdoor yard in full view of Zoo guests.
Having large reproductive tracts, long pregnancies, and large calves makes elephant reproduction very complex. Throughout her 21-month gestation, the Zoo's animal care team provided daily check-ups and constant prenatal care to benefit both mother and baby.  In addition to providing a healthy diet of hay, fresh fruits, fresh vegetables, and browse locally harvested, the Zoo's animal care team encouraged daily exercise for the mother-to-be.
Matjeka (pronounced (ma-chegg-ah) is about 21 years old and weighs 7,600 pounds. The Zoo's herd also includes Sdudla (Swazi bull), Mbali (Swazi cow), Mpumi (7-month-old calf of Mbali) and Ellie (the herd's first matriarch). The Zoo's first-born elephant, a male named Tamani (born to Ellie in 2005 through artificial insemination), relocated in 2012 to Birmingham Zoo at the recommendation of the AZA SSP.
Although international ivory trade has been banned since 1989, poaching elephants throughout Africa is at unprecedented levels and most large herds are trending toward extinction by 2020. Tampa's Lowry Park Zoo has supported acquiring additional land to increase protected areas for elephants in Africa, anti-poaching programs and public education in Swaziland. Results to date include expansion of the Mkhaya Game Reserve by 10 percent, to promote survival of elephants and thousands of other animals protected there.
About Tampa's Lowry Park Zoo
Tampa's Lowry Park Zoo is operated by the Lowry Park Zoological Society, an independent 501(c)(3) charitable organization committed to excellence in education, conservation and research. The Society is underway with the New Horizons Campaign to raise funds necessary to provide vital support for the development of a new and innovative Veterinary Hospital and Animal Science and Conservation Center. Tampa's Lowry Park Zoo is accredited by the Association of Zoos and Aquariums (AZA), and has been named the No. 1 zoo in America by both Parents magazine (2009) and Child magazine (2004). The Zoo is located at 1101 W. Sligh Avenue in Tampa, one mile west of I-275 (exit 48) and is open seven days a week, from 9:30 a.m. to 5 p.m. daily, with extended hours on select nights during special events. Zoo daytime admission prices are: adult - $23.95, seniors (60+) - $21.95, children ages 3-11 - $18.95, and children 2 and under are free.  Daytime admission is value-priced to include unlimited amusement rides.  Parking is free. For more information, visit LowryParkZoo.com.